This is us, Designomo GmbH, a WordPress agency with over five years of experience and satisfied customers from over 250 successfully completed projects. Our two founders, Lukas Kulemeier and Tobias Watzal, come from the beautiful town of Gelnhausen and also in the surrounding area there are many beautiful places like Frankfurt, Fulda, Wiesbaden, and Hanau. The company is located in the Kinzig Valley, an extremely dynamic and inspiring working environment where we can fully specialize in WordPress development. However, our WordPress team is not limited to the listed locations, but works for you all over Germany and even internationally.
Lukas Kulemeier and Tobias Watzal jointly pursued the vision of digitizing small and medium-sized businesses. Accordingly, our focus is on small to medium-sized companies, but we have also worked with well-known companies and personalities. Designomo GmbH has also managed projects for international companies such as Intel, Wikipedia and the Plastic Bank.
Our team will be happy to help you with the topic of digitalization! 
Always be one digital step ahead and act directly.
Creating new value through digital infrastructure.
Be honest, special, lasting and happy.
WordPress website creation
Our WordPress agency is specialized in web design and you are welcome to let us design your new homepage. We pay special attention to the security and privacy of your website. But also an innovative web design and creative and search-optimized texts should not be missing. After a strategy discussion with you we start programming your new website and designing your company homepage, while you can focus on your daily business. Of course you can make adjustments at any time and even after the project is finished we are there for you and carry out regular maintenance and updates.
WordPress website maintenance and support
We as a web design company know the need for regular website maintenance, updates and security settings. Our WordPress experts make sure that your website is constantly protected against hacker attacks and optimize your homepage sustainably. We are happy to manage your website and are available to you 24/7.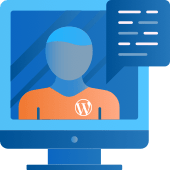 Technical search engine optimization
The technical search engine optimization is a component of SEO and focuses mainly on technical optimization possibilities of your WordPress website. We deal with all areas of technical search engine optimization in order to provide the users on your site with an optimal and functional website experience through problem-free web design and search engine optimized content.
Contact us without obligation
Designomo develops the appropriate strategy for your website and reworks existing websites according to your requirements. We implement your services, products or business models in a digitally innovative way and thus create an economic benefit for you.